Paediatric Family-Centred Rehabilitation Programme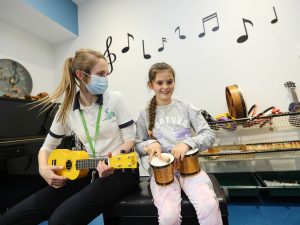 The Paediatric Family-Centred Rehabilitation Programme is the national medical rehabilitation service for children and adolescents up to 18 years requiring a complex specialised rehabilitation service.
Referrals for the service are received from across the Republic of Ireland. The rehabilitation needs of each person referred can be assessed on an inpatient, day patient or outpatient basis.
Therapeutic interventions can be offered on an inpatient or day-patient or on a limited outpatient and outreach basis.
The Paediatric Programme at the NRH has 10 beds (8 inpatient beds and 2 day-patient beds).
Read more
In effect the Paediatric Programme is a microcosm of the three adult Programmes at NRH, providing rehabilitation services to children and adolescents who have significant who require medical rehabilitation as a result of conditions such as a brain injury, stroke, spinal cord injury, neurological disorders or limb absence.
The Objectives of the Paediatric Programme Are:
To achieve the maximum rehabilitation potential of each child – physically, emotionally and cognitively.
To involve the children and young people and their families or carers in the rehabilitation process.
To support the reintegration of the child or young person into his or her home, school and the wider community.
To help and support the child or young person and his or her family to adjust to loss, changed self image and abilities.
To liaise and advocate with Health, Therapeutic and Education Authorities in the young person's local communities regarding their ongoing rehabilitation needs.
To offer rehabilitation training and education to family, carers, teachers, special needs assistants (SNAs), personal assistants (PAs)and other service providers.
Show less
The Rehabilitation Team
Read more
Rehabilitation treatment and care for the Paediatric Programme is delivered by the Interdisciplinary Rehabilitation Team.
Dr. Susan Finn is the Consultant in Paediatric Medicine responsible for the overall delivery of paediatric medical care to children and adolescents receiving rehabilitation services at the NRH.  Dr. Finn's primary medical position is with the National Children's Hospital at Crumlin.
Additional medical rehabilitation care and consultation to children and adolescents in the Paediatric Programme is provided by:
Dr. Irwin Gill, Consultant Paediatrician s.i. Nuerodisability, working jointly in CHI Temple Street and the NRH.
Dr. Nicola Ryall for patients with needs in relation to limb absence.
Dr. Éimear Smith for patients with spinal cord injuries.
Prof. Jacinta Morgan for paediatric patients referred to the NRH by Beaumont Hospital while they receive acute care and progress to admission to the paediatric programme.
Clare Hudson is Programme Manager for the Paediatric Family-Centred Rehabilitation Programme. A primary focus of the Programme Manager's role is to facilitate, with and on behalf of the team, the development and delivery of effective and efficient rehabilitation services and standards for our paediatric and adolescent patients.
The Paediatric Programme at NRH accesses a full complement of support from:
Medical
Nursing
Clinical and Therapy Services
Administration
Show less
Clinical and Therapy Services delivered within the Paediatric Programme
Read more
Nursing
Daisy Unit CNM II:
Adele Buckley, A/CNMII
Clinical Neuropsychology
Clinical Neuropsychology provides in-depth reports vital to the young persons' successful return to, and continuation in, education frameworks that are appropriate to individual need, and liaises closely with the Team and the School at NRH.
Social Work
Social Workers provide a service to: inpatients; the outpatient clinic; and an outreach service to many of the families attending the Paediatric service. Many parents and children visit the unit prior to admission and are introduced to the service by the social workers and nursing staff.
Nutrition & Dietetics
The Dieticians provide a service to the Paediatric Programme. The main reasons for referral include overweight, malnutrition, enteral tube feeding and other food-related issues.
Core Clinical and Therapy services provided to the Paediatric Programme also include:
Occupational Therapy
Physiotherapy
Prosthetics and Orthotics
Speech & Language Therapy
Music Therapy
Feedback from service users, their families and the paediatric rehabilitation team members about the pilot Music Therapy Service has indicated that there have been significant benefits for patients from this new service. These benefits include encouraging and motivating desired movements, to communicate more effectively with non-verbal children and to build therapeutic relationships.
Children in Hospital Ireland – Volunteers
The children and adolescents continue to benefit from the reliable and supportive play activities three evenings each week provided by the Children in Hospital Ireland play volunteers.
Show less
Demographics,  Activity and Outcomes for Children and Young People who received services at the NRH in 2022