Visiting Times
| Monday to Friday: (including Bank Holidays) | Saturday, Sunday and Bank Holidays: |
| --- | --- |
| 6.30pm – 9.30pm | 2.00pm – 4.30pm and 6.30pm – 9.30pm |
Visiting within reason outside of the above times must be discussed and agreed with the Nurse Manager on duty.
As a visitor to our hospital we ask you to respect and follow the Visiting Guidelines.
Recommended visiting time is twenty minutes, and no more than two persons should visit a patient at any one time.
Children under 12 years other than the patient's own children (by prior arrangement) should not be brought to visit. Children must be under the supervision of an adult at all times while in the hospital.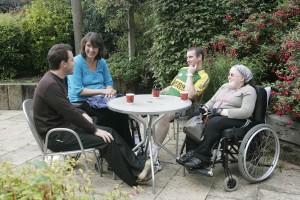 A patient has the right to decline visitors, please respect the patient's and family's wishes.
Visiting hours may be extended for compassionate reasons or where relatives assist with patient care or to facilitate educational sessions with family members and staff.
The Nurse Manager can request that visitors leave if the number present or the length of the visit is deemed excessive.
The NRH operates 'Protected Mealtimes' to ensure that patients have the time to eat and enjoy their meals safely.  Read more…..
Additional restrictions will apply from time to time, e.g. during outbreaks of infectious diseases.
Relatives and friends are requested not to visit if they have sore throats, flu, vomiting and/or diarrhoea or other infections, because of the risk of introducing infection to the ward.
Visiting hours may also be restricted for medical or emergency situations. All exceptions and restrictions are at the discretion of nursing staff on duty, arrangements should be made as far in advance as is possible unless it is an emergency situation.
Visitors, Please Observe the Following
Use hand hygiene facilities as available when entering and exiting hospital wards.
Consider other patients' needs for rest and privacy.
Have consideration for staff doing their job.
Please comply with any request to leave the patient's room to facilitate care.
Comply with any requests for no visitors or restricted visiting.
Observe confidentiality – you may see or hear things of a private and confidential nature.
Do not visit if you might be an infection risk to others or if you feel unwell.
Help keep our hospital clean and inform staff of any cleaning concerns.
Ensure any visiting children are well behaved and are never left on a ward unaccompanied.
Be responsible for the safety and security of your belongings.
Comply with isolation policies and signage, especially if visiting multiple patients.
When visiting an isolated patient this patient should be the last person visited rather than the first due to possible spread of infection.
Refrain from touching dressings, drips, catheters etc.
Always enter and exit the hospital through the main entrance doors or as specified.
Follow hospital restrictions on the use of mobile phones.
Do not sit/lie on beds.