NRH (Phase 1) wins 'Building for All' Universal Design Award
November 29, 2021
The RIAI Annual Awards – Universal Design 'Building for All' Award, 2021
The Board of the NRH is delighted to announce that the new hospital (phase 1) was awarded the Universal Design 'Building for All' Award at the Royal Institute of Architects in Ireland (RIAI) annual conference in November 2021.
The Award was accepted by Séan Mahon, Managing Director O'Connell Mahon Architects, Hanna Kickham, Associate Director OCMA,  Kieran Fleck, Chairman of the NRH, and Henry Murdoch, Chairman of the NRH Foundation.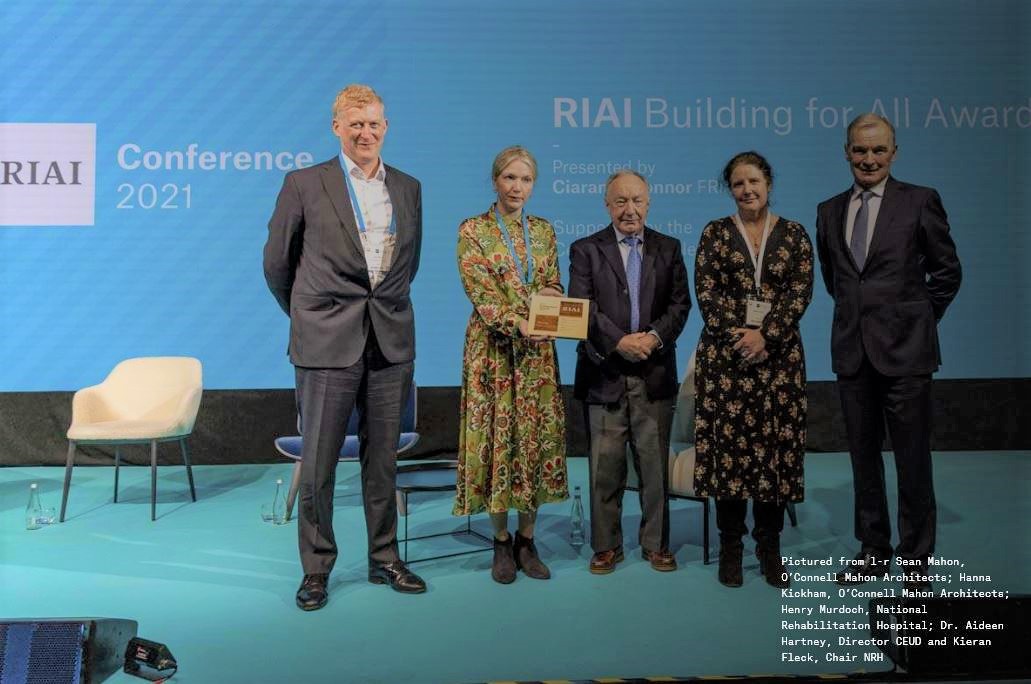 Centre for Excellence in Universal Design – RIAI Annual Awards – Building for All Category
Since 2013, the Centre for Excellence in Universal Design (CEUD) at the National Disability Authority (NDA), has supported the Royal Institute of the Architects of Ireland (RIAI) Universal Design category as part of their annual awards. The aim of the award is to promote excellence in Universal Design among the architectural profession in Ireland.
The RIAI Building for All Award is designed to demonstrate best practice in accessibility, inclusion and universal design. Submissions must demonstrate how the principles of universal design have been integrated. They must show the extent of consultation and co-design with end-users so that the built environment can be used easily, safely and with dignity for the enjoyment of all.
Projects shortlisted for the  awards were visited by members of the RIAI Universal Design task force. The Jury is appointed by the Centre of Excellence in Universal Design (CEUD), and jointly a recommendation is made for these awards.
Winner: National Rehabilitation Hospital
Architects: O'Connell Mahon Architects
Clients: National Rehabilitation Hospital
Location: Dún Laoghaire, Co. Dublin
Jury Citation: The National Rehabilitation Hospital demonstrates the positive impact of involving diverse users throughout the design process by providing an environment specifically meeting the requirements of patients and staff. Consideration of Universal Design principles is evident from design concept through to detail design. This includes landscaping and access to nature, capturing views to the Dublin Mountains, natural light and ventilation, as well as easy circulation, way-finding and use of colour.
For more information about the award and the Centre for Excellence in Universal Design, National Disability Authority – Built Environment … read more
NRH Accessibility Statement submitted for RIAI Annual Awards – Universal Design – Building for All Category … read more