NRH TY Programme Update – Careers Event for Students
April 15, 2022
TY Programme Deferred.  Virtual Careers Event for Students takes place on Tuesday 26th April.
The NRH has taken the difficult decision to defer its Transition Year (TY) work experience programme for 2022 due to ongoing COVID-19 measures that remain in place.
We are very disappointed to have to take this decision for a second year running however, the safety of our patients, staff and students is paramount.
We understand this is very disappointing for students – we are, however, running a Virtual  Careers Event for students on Tuesday 26th April, at 5.30pm.  The event is open to all 2nd and 3rd level students.
This event which will provide an opportunity to hear about a patient's experience in the Hospital and members of our Interdisciplinary Teams will give an overview and insight into the following disciplines:
Virtual Careers Event for Students (via MS Teams) – Tuesday 26th April at 5.30pm
Programme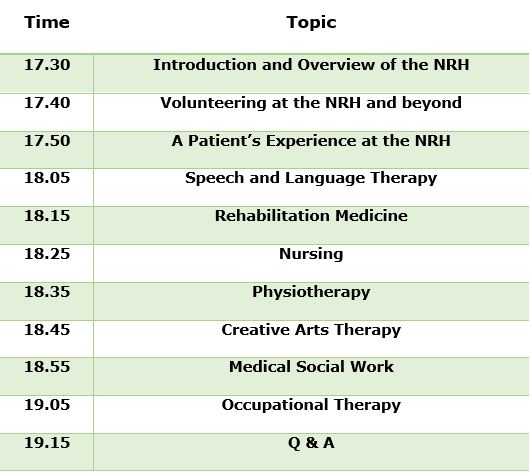 We hope you will be able to join us for this event.  Please email Sarah Kearney sarah.kearney@nrh.ie to receive the MS Teams Link.