Your Admission to the NRH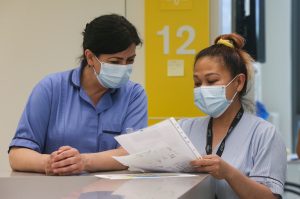 We will notify you by telephone or in writing about when to come to the hospital. We will try to give you as much notice as possible of your proposed admission date.
If due to exceptional circumstances you cannot attend at the time and date given, please contact the Admissions Office, Tel: (01) 235 5238.
Admissions Office opening times:
| Days | | From | To |
| --- | --- | --- | --- |
| Monday – Thursday | | 9.00am | 5.00pm |
| Friday | | 8.00am | 4.00pm |
 (closed between 1.00pm and 2.00pm each day):
On Your Arrival
If you are being admitted from home please report to the hospital's main Reception. From there you will be directed to the appropriate Rehabilitation Unit. We ask that patients arrive by 2.00pm where possible.
If you are being admitted from another hospital, you will be taken directly to the appropriate unit.
What to Bring With You
Bring everyday items you may use, for example, reading glasses, hearing aid, walking aid or communication aid. If you have a wheelchair, bring your cushions and both footplates. Your name should be clearly marked on each item before you arrive.
Clothing
You should bring comfortable clothing to wear during your daily activities. Your clothing should be clearly marked with your name using a permanent marker. We recommend that you bring:
3 tracksuits or slacks
Warm jackets (loose fitting)
Jumpers or T-shirts
Underwear
Socks, stockings or tights
1 or 2 pairs of comfortable shoes or trainers (ideally not new ones) and slippers. Shoes and slippers should be non-slip for safety.
Pyjamas or Nightdress (nightwear must be made of non-flammable material)
Swimming togs for Hydrotherapy may be necessary.
 Toiletries
Toothbrush and toothpaste
Facecloth, soap and shampoo
Hairbrush and comb
Roll-on deodorant (not sprays)
Shaving cream and razor
You will need toiletries on an on-going basis.
Medications and Prescriptions
Before your admission, ask your family Doctor or GP to provide you with an up-to-date prescription.
Give this prescription to the doctor or the nurse when you arrive on the Unit. Tell the doctors and nurses of any over the counter medicines, vitamins or complementary medicines that you are taking.
Allergies
Tell your doctor and nurse about allergies you have, or unexpected reactions you have had to medicines in the past. Remember to let them know about food allergies or other allergies you may have.
Special Dietary Requirements
If you are on a special diet please bring any dietary information such as diet sheets and any special dietary products with you.
Medical Card
Please bring your medical card with you and present it to the nurse when you arrive on the Unit.
Social Welfare Certificates
If you need Social Welfare Certificates these will be issued to you on request by the Medical Social Work Department. Please bring your P.P.S. Number with you.
Property and Valuables
You are discouraged from bringing money, jewellery or other personal items with you. If you are unable to organise a family member or a friend to take your valuables home, they should be given to the nurse who will store them in the hospital safe.
The hospital cannot accept any responsibility for loss of items not recorded by the staff and stored in the safe.
Checklist of Items to Bring With You on Admission
Everyday Items you may use, for example, reading glasses, hearing aid, walking aid or communication aid
Clothing
Toiletries
Medications and Prescriptions
Medical Card
PPS Number
Details about any allergies you may have
Details of special dietary requirements
Other items you may use every day, for example, smartphone or computer tablet…
Pre-Admission Information Booklets
Brain Injury and Stroke Programme Booklet – download
Spinal Cord System of Care (SCSC) Programme Booklet – download
Prosthetic, Orthotic and Limb Absence Rehabilitation (POLAR) Inpatient Booklet – download
POLAR Day Programme Booklet – download