Patients, Families and Visitors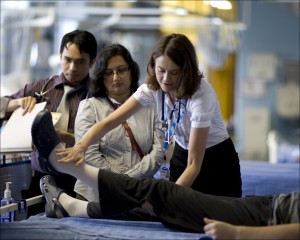 Rehabilitation is the process by which a range of rehabilitation specialists will work together with you and your family to help you adjust to your injury and learn the new skills needed to help you to achieve your highest possible level of independence.
Rehabilitation is an educational and therapeutic process through which you will learn and develop skills designed to:
Help you achieve your personal rehabilitation goals
Reach your safest level of independence
Help you to participate meaningfully in your community.
You and your family members are central to the rehabilitation process. Together with the team, you will make informed decisions about your personalised rehabilitation / treatment plan, follow-up care, home modifications and other individual needs.
Persons admitted to the Inpatient Service at NRH for a full schedule of rehabilitation treatment and education are admitted under our programme known as the: 'Comprehensive Integrated Inpatient Rehabilitation Programme' also known as CIIRP.
Patients can also be admitted to the Inpatient Service for a short assessment or review period.
In addition, assessments, reviews and rehabilitation treatment programmes may also be offered through our Outpatient Service as appropriate.
Privacy Policy in Relation to Healthcare Records
The National Rehabilitation Hospital (NRH), its employees, students, contractors and voluteers follow the Privacy Policy described in our'Notice of Private Practices in Relation to your Healthcare Record'. (click on the link to download the Policy).
This notice describes how medical information about you may be used and disclosed and how you can access this information.
Please click on the link to access the NRH Child Safeguarding Statement